Here is a step-by-step guide with our tips for creating your Push Communication!
Don't hesitate to gather the required elements to set up your Push Communication before starting its creation on your back-office.
Contents:
Access to the creation of your Push Communication
To create your Push Communication, go to the 'Events' section of your back office and click on 'Add'.

Completing the information of your Push Communication
First of all, add a picture (required dimensions: 1920px*1080px).
It must be related to the event and should draw the attention of young talents.
Then, you must add a title. It must be specific and concise: For instance 'JobTeaser hires 10 trainees!'.
For bilingual events, please make sure that the title is understandable by both languages.
It's also important to specify the type of the event so that it will be correctly referenced on our platform. Select the type from the options that appear in the drop-down menu.
You must then indicate if your event is taking place online or not. If you indicate an address, it will appear in a notification sent 24 hours and 1 hour before the event to all the registered users.
Also, if the exact address is indicated, it will be visible by all in the front office.
The start and end date as well as the time of the event will also appear in this notification. These dates will determine the time slot in which the event will be considered 'in progress'.
If your event takes place on a specific day, the start and end date of the event will be the same, the start and end time should be different.
If your event is a 30-day recruitment campaign for example, indicate the start date of your campaign and the end date of your campaign.

In the event description, explain what your event is all about and make young talents want to register to it!
Share all the necessary information (required skills or documents for example). You can also specify the registration details. For bilingual events, write the description in both languages.

Note that we do not recommend including redirection links to an external website in the text. This may result in a loss of traffic to your JobTeaser page and impact your Push Communication statistics. We will not be able to track who is redirected to an external website.
Also, you cannot add emojis otherwise you will encounter an error.
Finally, you can also enter the names of the speakers. This way, applicants will be able to identify them and do research beforehand.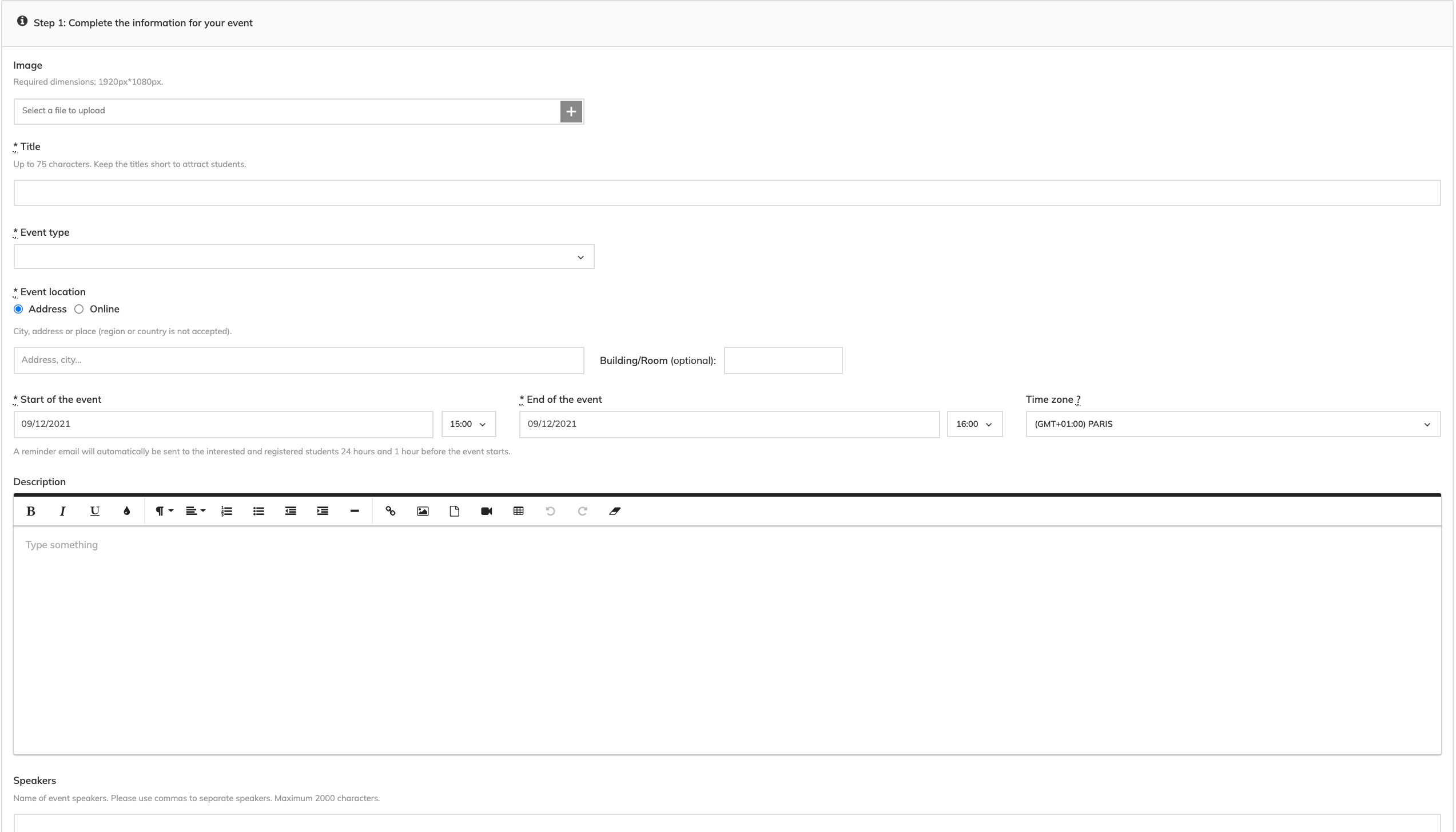 Setting up the registrations
You can choose between 3 possibilities.
Event without registration
It is a good option if you only want to communicate about the event. The 'Register' button will not be visible.

Registration via an external website
You will redirect registered users to an external website.
Fill in the registration date and time, as well as the registration and unregistration deadlines.
Then, fill in the external URL on which you will redirect registered users when they click on the 'Register' button.
If you choose this registration mode, please make sure you don't put the registration link that you pasted in the 'URL of registration website' field in the event description. This duplicate would be unnecessary and it could impact the registration rate.
Users will be automatically redirected to the link you put in the 'URL of registration website' field when they click on the "Register" button. This button will appear in the front office once your Push Communication is online.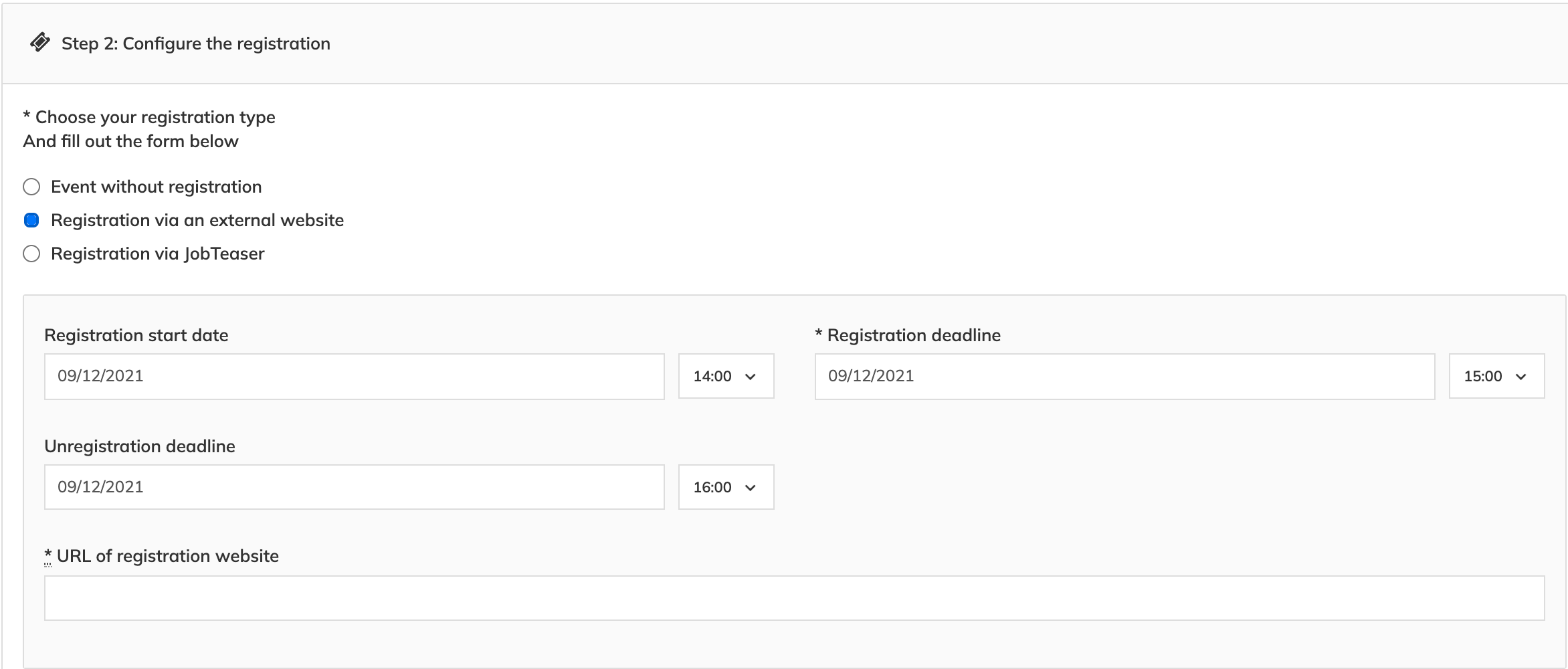 Registration via JobTeaser
This option has the most features. It also enables you to centralize and manage all registrations from your JobTeaser back office.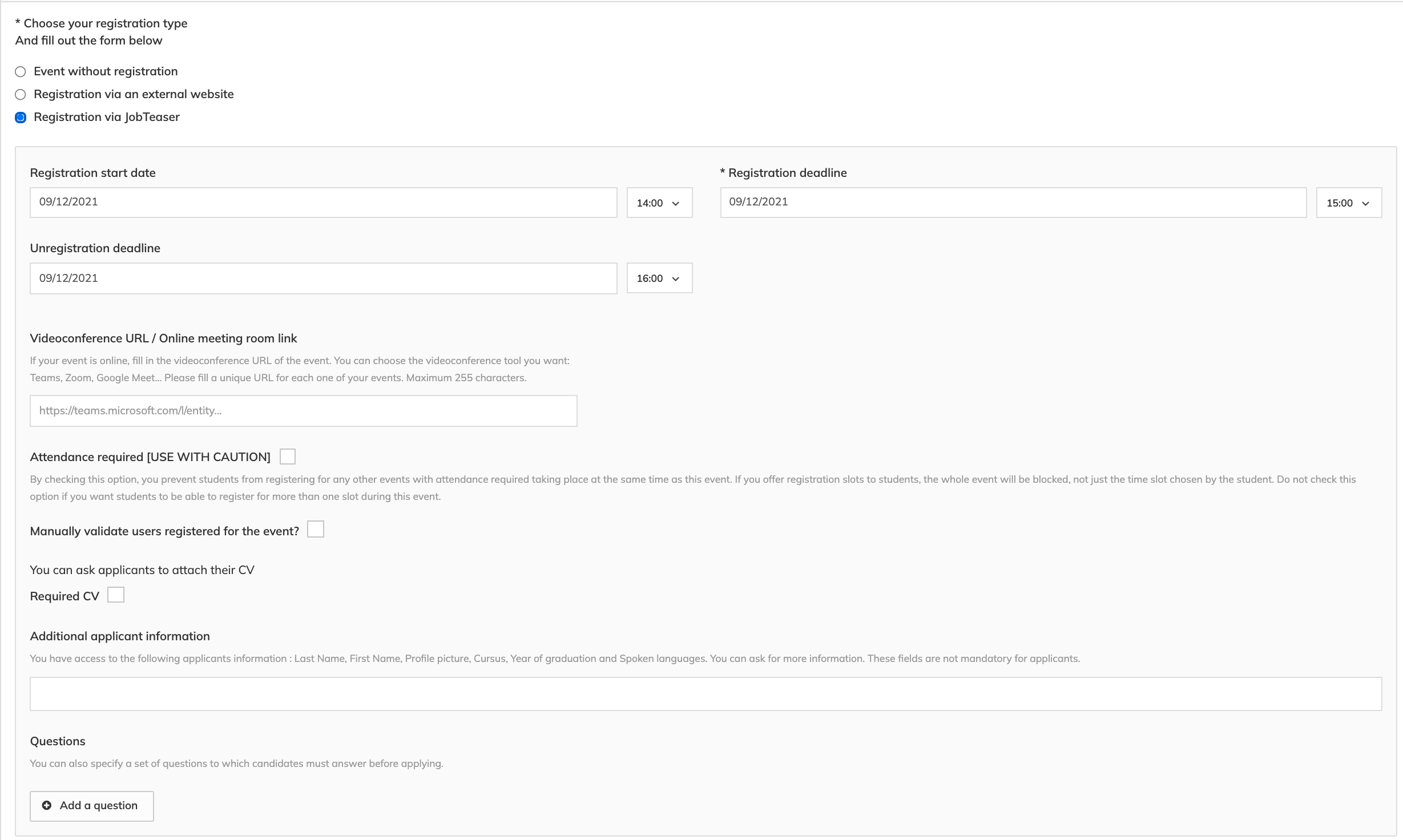 Fill in the registration date and time, as well as the registration and unregistration deadlines.
If your event is online, fill in the videoconference URL of the event. You can choose the videoconference tool you want: Teams, Zoom, Google Meet... Please fill in a unique URL for each one of your events.
You can tick the 'attendance required' box if you want to prevent registered users from registering for any other events with attendance required taking place at the same time. It is recommended to use this option sparingly.
If you want to select the applicants who will be able to take part in the event, tick the dedicated option. You will then be able to validate the applicants to your event before they are confirmed. When this box is ticked, they will receive an automatic email informing them whether their request was accepted or not.
Check the box 'CV required' to ask applicants to attach their CV. They will then appear in your back office. You will be able to download an Excel list with all available information and CV with a single click.
By adding 'Additional Applicant information', you will have access to information that they already entered in their profile. However, these elements are not mandatory before registration.
If you want, add a set of questions that applicants will answer before registering. You can select several types of answers (long or short text, yes / no, single choice, multiple choice or PDF upload). This will allow you to collect a wide range of information during registration and help you in your recruitment process.
Some companies manage their recruitment campaigns entirely thanks to this functionality, by asking which contract the applicant is looking for, in which department, etc.

You can offer multiple registration slots to applicants and define the maximum number of slots they can register or limit the number of seats at your event. If the limit is reached, the platform will automatically create a waiting list.
Finally, you can customize the message displayed during registration, on registration confirmation and reminder emails.
Targeting the audience of your Push Communication
You also have several options to target your event.
Be careful! If you decide to target specific universities, your Push Communication will be less visible than if it was not targeted.
For advice on targeting your Push Communication according to your objectives, contact your Account Manager.
Targeting universities
By selecting this option and filling in the field below, you can target specific universities. The Push Communication will only be visible in the Career Centers of the targeted universities.
If you select this option but leave the field blank, the Push Communication will be public, i.e. visible in all Career Centers in our network and on the JobTeaser website.
Targeting countries
By checking this option and selecting countries, your Push Communication will only be visible in the Career Centers of those countries.
Job categories
You can also recommend your event to young talents who have filled in certain job categories in their search criteria. If you select all job categories, the event will be recommended to all users.
Languages
To finalize your event, choose the language of the event from the drop-down menu. Only users who selected the language you chose in their profile will see the event.
Make sure that your event description is written in the same language as the one you have chosen. For bilingual events, select both languages.
When you have finished your Push Communication, click on "Create an event'.

Activating your Push Communication
Once you have created a Push Communication in your back office, it must be activated by our Customer Care Team to be visible on the platform.
If your Push Communication is ready, go to the 'Events' section of your back office, click on the Push Communication to be activated and send a request via the form appearing at the top of the page.
Fill in your email address and phone number before clicking on the 'Activation request' button.

Your request will then be forwarded to our International Customer Care Team. They will check if the push communication is in keeping with JobTeaser's standards and will get back to you if changes must be made.
If no changes are to be made, they will activate the Push Communication and send you an email confirming that it is online.
If you don't receive this email 24 hours after having sent your request, contact our team at international-support@jobteaser.com