A slot is an online space where you can post your job ads for 12 months. It can be modified as often as you wish.
Please note that you can't move back up a job ad published on a slot.
To use your slot, create your job ad and click on

.
If you have a slot available, the back office will suggest that you post it on the slot by default. You can then click on 'Publish on one slot'.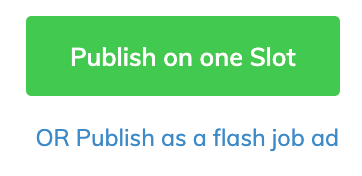 A slot must be reactivated every 30 days.
Only one job ad at a time can be active on the slot. In order to publish a new job ad, the job ad currently online on the slot must first be archived. Read this article to understand how to archive a job ad.
Analogy: your slot is like a parking spot. You own the spot for 12 months, but you can only have one car parked at a time. You may change the car as often as you like.